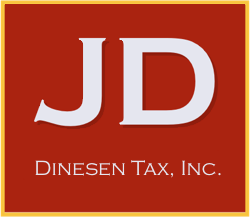 Regular visitors to www.dinesentax.com may have noticed a new logo in the upper left-hand corner. I wanted to take a moment to mention the new logo in a blog post, mainly to say thank you to Mike Sansone at ConverStations for designing it.
I first called on Mike one year ago to evaluate my web presence. It's been a highly productive year.
Mike has helped re-design the look of my home page, integrate my blog into the home page, and clean up and "professionalize" the language on some of the sub-pages of this site. He's also helped me with blogging strategy and social media strategy, and he's done a lot of "behind the scenes" things for me.
If this sounds like a post mainly to endorse Mike Sansone … well, it is! If you are a small business owner trying to find your legs with blogging and social media, I would encourage you to check out his website and see if there are things Mike can help you with.