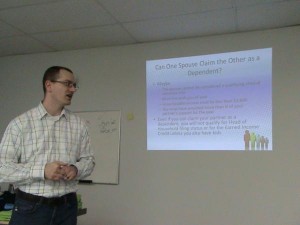 Today (Saturday, March 24), I will be giving my third and final tax presentation with One Iowa about the tax issues faced by same-sex married couples. The presentation starts at 10 am at the One Iowa office, 419 SW 8th Street in Des Moines. If you can't make it to the presentation, you can follow along on-line. Here's how:
Access the PowerPoint here. And then….
You can submit questions on either Twitter or Facebook and get live, real-time answers.
There's a wealth of information in this presentation for both taxpayers and accountants. I look forward to seeing you at the presentation or fielding your questions on-line!