The steady growth of my business has taken another positive turn, as I am pleased to announce the formation of Dinesen Tax, Inc.
I've been operating as a sole proprietor under my name for the last 3 years, but I've grown enough to where it was time to upgrade to a business entity.
I wanted to form a PC, but my attorney informed me that only people licensed by the state can form a PC. Enrolled agents are federally licensed, and thus cannot form PCs.
Alas, such is the fate of holding a designation that is the equivalent of Liechtenstein. I had to form a regular old corporation.
Oh well.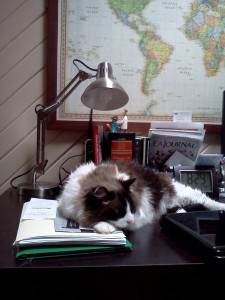 Other than the name change and the ancillary changes that go along with that, nothing else has changed.
I am still the only employee of Dinesen Tax, Inc. — unless you count my de facto secretary, Rocco the Cat. Rocco spends most of his time sleeping on my desk and "guarding" the piles of paper.
When you call, I'll be the one who answers. When you e-mail, I'll be the one to respond. When there's work to do, I'll be the one doing the work. (Rocco isn't much of a helper in any of these areas. It's hard to find good help these days.)
Still, it's a big leap forward for my business, and I look forward to what the future holds!