Taxpayers who need a copy of a tax return or a transcript can now access that information themselves through a new online tool at irs.gov.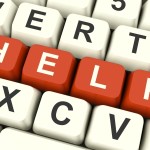 This is a nice feature. But I also am mad at the IRS.
Here's why.
Practitioners often need copies of tax returns or transcripts when we are helping clients who have problems with the IRS. Last summer, the IRS announced that it was taking away online processing of Power of Attorney forms. Getting a signed POA from the client is the first step for a practitioner to get access to those transcripts.
Before the IRS did away with online processing, it was a breeze. You'd have the client sign the POA, go to the e-services website and enter the POA information, and be able to instantly pull the transcript.
But now that's not an option for practitioners. So we must either wait on hold with the IRS until we talk to a human and fax the POA while on the line (and there's still a delay in the IRS systems getting updated to show the POA), or fax or snail-mail the POA (which really creates a delay). Then we can go out to e-services and pull the transcript.
Delays are not good because people often don't seek help until right at the due date of a response to the IRS.
True, practitioners can enlist taxpayers to go online and instantly access their transcripts for us. But as the National Association of Enrolled Agents said in its weekly news update last week (my emphasis added):
(T)roubled taxpayers often arrive on an EA's doorstep at the moment the exam or collection clock is ticking towards zero. In those cases, EAs will be able to work more swiftly by enlisting their clients to provide their own transcript information, notwithstanding the fact that many of them hire a tax expert because they don't want to touch their tax troubles with a ten foot pole.
This is one step forward and two steps back. The IRS adds new technology that adds convenience for taxpayers while removing technology that added convenience for practitioners.
Image courtesy of Stuart Miles / freedigitalphotos.net